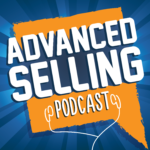 In this episode of The Advanced Selling Podcast, veteran sales trainers Bill Caskey and Bryan Neale discuss a situation with one of Bryan's clients who reacted to a client's cancellation.
Bill and Bryan also share some thoughts and strategies on how to NOT react emotionally in most scenerios.
Remember, August is MAKEOVER MONTH so if you want to be considered for our live makeover, send as email to [email protected] and tell us about yourself and your goal of personal branding makeover.
Also mentioned in this podcast:
Podcast: Subscribe in iTunes | Play in new window | Download