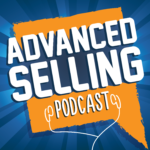 What vibe do you give off when you're around others?
In this episode of The Advanced Selling Podcast, sales trainers Bill Caskey and Bryan Neale talk about two words, commitment and energy, that will influence your success in professional selling.
The guys break down each of these words and talk about what they see when they go into companies and work with high achievers in these two areas.
We'd love to hear your feedback on this topic by going to the Facebook fan page and sharing your thoughts!
Also mentioned in this podcast:
Podcast: Subscribe in iTunes | Play in new window | Download