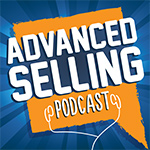 In this episode, veteran sales trainers Bill Caskey and Bryan Neale discuss the most important things you can do in the next 10 days to finish up this year and start next year properly.
Do you feel stressed out during the holidays?
Feeling like time has run out?
There is still time to get things done before the end of the year. It's a great time to think how you will jumpstart 2017. And, on this week's Advanced Selling Podcast, Bill and Bryan will give you some precise ideas on how you can do that.
Also mentioned in this podcast:
Podcast: Subscribe in iTunes | Play in new window | Download