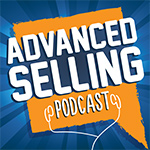 Budget. Prospect. Rapport. Value-add. Pain points.
Tired of the same words that may be contributing to old school thinking in the sales process?
In today's episode, veteran sales trainers Bill Caskey and Bryan Neale dive into how the labels and words we use in sales may be negatively impacting the outcomes we achieve.
Are you still asking your prospects about their pain points?
Do people tell you your product/service doesn't fit into their budget?
In this episode of The Advanced Selling Podcast, Bill and Bryan give you new alternatives to the same, tired language. They will help you modernize what you say and give you strategies to avoid using words that are overused and misunderstood. Learn how to update your sales language starting right now.
Also mentioned in this podcast:
Podcast: Subscribe in iTunes | Play in new window | Download